Vales Road, Budleigh Salterton,
Devon, EX9 6HS

The numerous sporting clubs, such as croquet, bowls and golf welcome visitors, while fishing varies from beach to boat, river to reservoir.
Energetic walkers' needs are met by strenuous inland and coastal hikes while the stroller can enjoy equally numerous and varied paths at their own pace. For both groups magnificent views and unspoilt countryside are consistent.
Lovers of architecture and history have a plethora of historical buildings to visit, from Exeter's cathedral to National Trust properties and gardens, such as Killerton House and Gardens, only a few miles north of Exeter. Just two miles from Budleigh is Bicton Park Botanical Gardens with its magnificent range of trees and plants across 63 acres (not to mention the excellent gift shop and woodland railway). In Budleigh itself is the quaintest of museums which makes learning a pleasure.
And, of course, there is the famous old sea wall – where Sir John Millais sketched his masterpiece, "The Boyhood of Raleigh", Sir Walter Raleigh's birthplace being just two miles inland.
Arts and crafts seekers will love the characterful settings and variety of many of the workshops and galleries, while serious shoppers can find, in addition to the excellent selection of independent shops in Budleigh, most of the major high street stores in Exeter – where there are also varied theatre productions.
In Budleigh Salterton the atmosphere of exclusivity and peace belies its potential to the visitor for an active holiday.
(either physical or intellectual)


Budleigh Salterton Festivals

Budleigh Salterton Croquet











Medieval Jousting Tournament
Newton Abbot Racecourse is one of the country's leading summer jumps racecourses and each year plays host to 18 thrilling horseracing fixtures.
Located in South Devon, not far from Exeter and the M5 and with great transport links, Newton Abbot Racecourse sees horseracing fans flock from throughout the South West and Midlands to enjoy an unforgettable day's horseracing.
Showing at Littlecote and Dawlish throughout the year, this company put on spectacular and entertaining jousting tournaments. Check their dates page for details of show times.
Medieval Jousting Tournament
Budleigh Salterton Croquet Club is one of the largest and most prestigious Croquet Clubs in Europe. Situated in Westfield Close, it has wonderful views across the town and sea. Established in the late 1860's, it has since developed into a modern, thriving and busy club with 10 lawns and a practice lawn, plus a bowls green. It benefits from owning a spacious clubhouse, with a bar, large modern kitchen, comfortable bridge and function rooms.
Budleigh Salterton Croquet Club



The West Country has a history of torchlight processions and burning barrels and Ottery was only one of the many towns and villages following an annual tradition containing barrels which were rolled in the streets on November 5th each year.
Often of real interest to children as well as adults, Exeter hosts an animated festival in February. Showcasing UK based and foreign animation and filming techniques, there are opportunities to take part, and a part of this festival corresponds with the school break in order to allow children to get involved.
There are two annual festivals in Exeter, one in the Autumn and one in the Summer. They host a huge range of events and shows, so it's worth checking out the webpage for details.
Powderham Castle is located in a unique, picturesque setting just outside Exeter, beside the Exe estuary. Six hundred years of history are contained within the walls of one of England's oldest family homes. Sir Philip Courtenay began building it in 1391 and it has remained in the same family to this day, currently home to the 18th Earl & Countess of Devon.
Sidmouth FolkWeek is a unique week-long seaside celebration of music, dance and song taking place in the charming East Devon regency coastal resort – a must in every festival goer's annual diary. There has been a folk festival in Sidmouth in the first week of August every year since 1955, attracting tens of thousands of visitors to over 700 diverse events with a promise of 'something for everyone'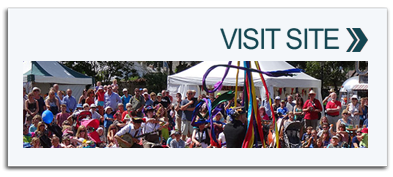 The Festival is an annual event held in the courtyard of Exeter Castle and the surrounding Northernhay Gardens, right in the centre of Exeter. Taking place over three days, the Festival also includes two evening Festival After Dark Events featuring live music, chef demos and a great atmosphere.
Budleigh Salterton remains one of Devon's most unspoilt and charming towns, containing many interesting shops and other attractions for visitors who want to spend a delightful holiday in the town – or who wish to enjoy a day in the friendly and relaxed atmosphere which so typifies this tranquil and historic retreat from the stress of everyday living.
The fourth Festival has now taken place and we look forward to welcoming you to next years Festival in April 2015.
The location for the Festival is the Budleigh Public Hall, Budleigh Salterton.
For a full list of events and ticket prices, click on the VISIT SITE link.
While the largest " vessels" taking to the water on the River Otter these days are the plastic ducks in the annual Boxing Day charity Duck Race…a river cruise up the Exe estuary can be a relaxing trip, starting from the picturesque town of Topsham just six miles west of Budleigh. Antique seekers and "yachties" will also enjoy a visit to Topsham (pronounced "Topsum") with its harbourside emporium and chandleries. Without being "spoilt" by the trappings of a seaside resort, Budleigh Salterton caters well for the day visitor – tea rooms are a–plenty, the shops are varied and, when seeking the customary ice cream cornet, there is a wonderful choice of locally produced Devon ice creams.
With its characteristic cobbled beach, edged with colourful beach huts and plenty of benches on which to sit and appreciate the scenery, Budleigh Salterton successfully combines an aura of "days gone by" with the 21st century.
For a listing of the many festivals and events in Budleigh Salterton and the surrounding area.
Situated on the cliff top above Budleigh Salterton, at the western end of the World Heritage Jurassic Coast, the Club commands magnificent views along the coast. On a clear day, Berry Head is visible to the south west and to the east, the high point of distant Portland Bill in Dorset can be seen, over 35 miles away.
A selection of festivals taking place this year, emcompassing many events, gigs and displays. The concerts cover a wide range of classical musical styles, and are set in this beautiful East Devon seaside town with its own special atmosphere. So please come and enjoy our musical offerings, walk on the beach, and enjoy our pubs and restaurants.
Budleigh Salterton Festivals